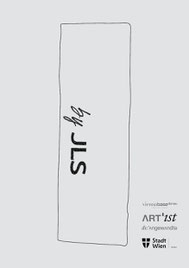 55 flashes but a collection ain't one
 
In 2002, I travelled to Istanbul to see Depeche Mode in concert, a band that had fascinated me as a teenager. Although I hadn't worn them for a long time, I took with me the low-heeled, pointed shoes (Depeche Mode style). I knew I would wear them for the last time, as they were too tight for me. They tortured me terribly during the concert. I left them in the hotel locker. I did not take a picture of them, so this text is a testimonial evidence of their existence. That is how Exuviation started, without even me realising it, not as an artistic project, but as a life situation. In 2013, I started Sock of the Day, an attempt to repair items of clothing that I had treated with indifference and even contempt until then. I photographed those socks that had sentimental value and I wrote down their stories. Since 2010, when I started to travel more, especially in art residences, I have left socks in the apartments and houses where I ended up living temporarily. As time went by, I left more and more diverse items of clothing in important places in my life, places which I revisited. In 2015, as a side project, I placed dirty socks in 80 pavilions during the Venice Biennale, socks that became temporary exhibits (until they were discovered and removed by supervisors, which means that the exhibits lasted between one minute and a few days).

The journeys continued and each one was marked by shoes, panties, T-shirts and other worn clothing that I took with me for this purpose. I have recently read the following status on Facebook: Did you ever look at a photo and wonder where the hell that T-shirt was? It's a question I've often asked myself while looking at old photos. There are periods of life that are associated with a particular T-shirt or pair of shoes. Ever since I started Exuviation, I have known where the vast majority of my old clothes are, because I have consciously left them in places of sentimental value. Moreover, the fact that I knew I was going to do that, added some spice to certain tasteless trips or situations. In biology, exuviae are the remains of an exoskeleton and related structures that are left after ecdysozoans have moulted. The exuviae of an animal can be important to biologists as they can often be used to identify the species of the animal and even its sex. All of the textile skins I have left in different places make up an emotional map, a frame by frame movie of a lifetime. A study shows that, in the last 30 seconds of life, when the heart stops pumping blood to the brain, the brainwaves follow the same patterns as when we carry out high-cognitive demand tasks, like concentrating, dreaming or recalling memories. The scientists learned, from intimate conversations, that flashbacks do not occur in chronological order, as it is conventionally believed. In 2021, after one month' stay in art residency in Pristina, I left the flat where I had lived, without even noticing that I hadn't left behind any piece of clothing. I understood then that the project was over. Some journeys end before you acknowledge it. Also, I do not reckon there is always something to learn from them. Dust to dust, pixels to pixels, textiles to textiles.

Bio
Born 1975 in Constanta/Romania.
Jean-Lorin Sterian is a researcher, writer, artist and performer currently based in Bucharest/Romania. He completed his bachelor's degree in journalism at Spiru Haret University in Bucharest in 1998. He has a master in anthropology from the SNSPA (2009) and a master in "Society, Multimedia, Spectacle" (Center Of Excellence In Image Study, University of Bucharest, 2015). His PhD thesis, researching what he coined to be"homemade" culture, which he started in 2016 will be finished in September 2022.

In 2008 Jean-Lorin Sterian opened the lorgean theatre, the first living-room theater in Romania and since 2014 he manages "HomeFest", an arts festival held only in houses and flats. He published several fiction books and one anthropological book related with his experience of turning his house into a public space for performances. Since 2009 he has been interested in performance and visual art.

Jean-Lorin Sterian worked as a performer for two projects at Venice Biennale, "The Sinthome Score" (2015, Dora Garcia) and "An Immaterial Retrospective" of the Venice Biennale (2013). He also performed his own independent art project, "The parasite socks project", as a statement against the Venice Biennale (parallel to the 56th Venice Biennale). He created performance shows like "We Need To Talk About lorgean" (2014), "Strip-tease" (2013, with Alice Pons) and "Zugzwang" (2012).

Exhibitions
Cadasters (installation) The Blue Biennale, Brasov, 2019, Yours Truly, Artisterium IX, Living Room II) Tbilisi, curator Gabriel Adams, 2016, Infratirea nu a avut loc (collective exbition of "national" flags), curator Veda Popovici, 2012, Aber etwas gibts (exbition) UNA galeria, part of "Where is the Beef?", curator Cristina Epure, 2010, Time Travel: Life is somewhere and sometime else, (photo project) - as a response to Time is a Book enquire) www.deburen.eu, 2010, Home Alone (curator Mircea Nicolae) - Laborator Propriu, Bucharest, Romania, and ICR Venezia, septembrie 2009, part of  Young Romanian Art.

photos (c) Jean-Lorin Sterian
Some photos from the opening and the artist talk. Many thanks to all our visitors/performers and to the representatives from Rumänisches Kulturinstitut Wien and the feral Ministry of European and International affairs.